My Old School
The CHS Class 1968 of 35th Reunion was held October 10-11, 2003 at the Radisson Suites Resort Sand Key. This reunion, we focused on our alma mater, Clearwater High School, including a tour of the school and attendance at the CHS football game.
Several CHS faculty members attended the Saturday night function, including Mr. Justice and Mr. Cekau (from Oak Grove).
Thursday Night
We continued our tradition of hosting an informal Reunion kick-off party at the Palm Pavilion.
Friday Night
Early registration began Friday at 3:00 p.m. in the hospitality suite, where attendees could pick up their t-shirts to wear to the game.
Gus Haynes provided a great tour of CHS, which doesn't seem to have changed all that much in 25 years. Following the tour, we attended the CHS football game against the St. Petersburg High Green Devils at Jack White Stadium. Unfortunately, it was not a good night for the Tornadoes.
Activities at the Radisson began at 8:00 p.m. with a reception in the Longboat Foyer. Folks who attended the game joined in when they got back. Snacks and a cash bar were available; dress was casual, and the Hospitality Suite was open after the reception.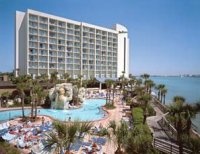 Saturday Afternoon
The Hospitality Suite was open and college football was the bill of fare.
Saturday Night
Saturday night's festivities were outside at the Radisson on the bayside deck overlooking the bay and City of Clearwater. A cash bar and a buffet of heavy hors d'oeuvres were provided. Entertainment was provided by John Mayeux. Dress was casual. Football games were on the TVs. And, the Hospitality Suite was open after the reception.
We out partied a wedding group and a 10-year reunion, and the efforts of our group were recognized by the Radisson, who thought there was no way us old people could generate more complaints than the 2 "kids" groups. It was a blast, especially for those at the at the Waffle House at 3 am.